Rupert Bates - A weekly blog from the world of rugby
Sunday 20th February 2011
FEELING SORRY (just a little) for CIPRIANI
It is difficult to feel sorry for Danny Cipriani – great rugby talent; clearly a hit with the ladies and now training under a Melbourne sun, rather than Acton rain.
Whether he actually courts publicity is arguable; it's just he has a habit of having ladies on his arm that the paparazzi like to train their lenses on. He's young and earning a good living in Australia's great outdoors, playing his game in the world's sporting capital. Jealous? Nah!
Yet it was no more than a 30-second news item on Sky Sports News on Friday night that infuriated me and made me, momentarily, feel sorry for the former Wasps outside-half. I refuse to call him the 'former' England outside-half.
It was always going to be tough for the Melbourne Rebels, taking to the Super 15 stage at the AAMI stadium, representing the state of Victoria, a state full of sports fanatics, be it AFL (Aussie Rules), cricket, rugby league, tennis, F1 or soccer. What's more the opposition were the Waratahs from New South Wales and the Sydney-Melbourne rivalry is intense, be it sport, culture, or bars and restaurants.
A crowd of more than 25,000 was a terrific marketing effort by the Rebels and vindication of the decision to award Melbourne the Super franchise, with plenty of union support in the state and the Rebel Army already making itself heard.
There was no time in the Sky Sports clip to dwell on why the Waratahs had run out 43-0 winners on an historic day for Australian sport. But enough time to show Cipriani, who came on as a ninth minute substitute at outside-half, line up his only penalty attempt of the game. You could almost here the chuckle from the news presenter as she said: "Cipriani had one penalty shot – and missed."
That was it. No mention about how the Englishman performed in other facets of the game. For the record he did pretty well behind a retreating pack and was especially strong in defence. In the second-half the Rebels, after a promising first-half with Welshman Gareth Delve to the fore at number 8, had a lot of defending to do.
Once Cipriani finds his feet and his forwards gain at least parity you suspect he is going to be a hit in the southern hemisphere and hopefully his picture will appear where it belongs, adorning the sports pages and he is critiqued as a sportsman not an errant rock star.
We give him grief – especially the media – for being a 'celebrity' (minor), enjoying the limelight and keep telling him to go away and concentrate on his rugby. No sooner does he do that – moving a mere 12,000 miles from home to get away – than the camera follows him as a 'celeb' and his missed penalty, admittedly not the toughest kick, is lampooned as the pratfall of a famous person. Pathetic. Good luck Danny.
Posted by: , on February 20th 2011 on 10:21pm
0 Comments
Thursday 17th February 2011
GARETH DELVE - THE FIRST WELSHMAN IN SUPER RUGBY
A Welshman far from home is the poster boy of the Melbourne Rebels. It was expected to be an Englishman, complete with poster girlfriend on his arm.
The decision to use the image of Gareth Delve, the Wales No 8, rather than Danny Cipriani, the discarded England first-five, in the new Super 15 franchise's marketing push is less to do with protecting Cipriani from more individual exposure and more to do with the team ethic and leadership qualities of Delve, who has made a huge impression in his short time in the Australian city and appointed Rebels vice-captain.
Delve, 28, first visited Australia as a travel catharsis to get over the heartache of missing the 2003 World Cup through injury and his career has been a frustrating litany of knee and shoulder operations taking its toll on this explosive, powerful athlete who landed at Bath as a teenage prodigy 10 years ago.
"Australia showed me there is a big world out there outside rugby. Also my injuries have taught me to seize opportunities when they come along and the challenge of moving and playing on the other side of the world was too big to turn down," said Delve.
It has not got down too well in Wales where Delve, who has won just 11 caps since his Test debut five years ago, was in the international back-row shake up, if never properly established.
"Test selection is not in my control, but joining the Rebels is about becoming the best I can be and I would hope to be in contention for the World Cup."
The easy option would have been to take up an offer to join his hometown club Cardiff, but surrounded by friends and family that would have been too comfortable. Contract negotiations at Gloucester where he was captain did not go well and with his former Bath coach John Connolly recruiting for Melbourne, Delve opted to be part of a rugby 'rebelution' joining his former Gloucester team-mate Greg Somerville, the All Blacks prop and also hooking up again with his former Bath forwards coach Mark Bakewell and Michael Lipman, the ex-Bath flanker.
"It is exciting to be part of building something brand new and creating a rugby legacy in a sports mad city. I have always wanted to see if I could mix it in Super rugby and it is great being the first Welshman to play in the competition."
Warren Gatland, the Wales coach, prefers his players closer to home and to build World Cup units, shapes and structures he needs his men in the Six Nations Championship.
"I am a proud Welshman and there is no greater feeling that running out for my country at the Millennium Stadium and I want much more of it."
But the No 8 is pitting himself against the very best in the world in taking on the likes of Springbok Pierre Spies in Bulls colours and All Black Kieran Read when the Rebels come up against the Crusaders. Take those scalps and it should not matter if the Welshman plays his rugby in Melbourne or on Mars, you put him in your World Cup squad. If Gatland does not get up early to watch the Super 15, he can expect tapes to land on his doormat postmark Melbourne.
"Gareth is one of our leaders and it would be great to help him get to the World Cup with Wales," said Rebels head coach Rod Macqueen.
The distinctive Delve, 6ft 3, 18 stone and with Hong Kong ancestry, was in a battle before he had even taken to the pitch with the Rebels, intervening on a Melbourne street when he floored a man he suspected of assaulting a woman.
Delve has settled in Port Melbourne with his girlfriend Helen; made a road trip to Queensland's Sunshine Coast for Christmas and is keen on taking up surfing.
Delve has certainly bought into Melbourne's five-star pledge that spells out Rebel – Respect, Excellence, Balance, Ethos and Leadership. With two brothers having served in Kosovo, Afghanistan and Iraq he knows all about perspective too.
He loves Australia, but wants to be in New Zealand come September in a red jersey. You can take the Welshman out of Wales...
The Rebels play their first Super 15 fixture on Friday night at AAMI Stadium, Melbourne against the Waratahs.
This article first appeared in the Super Rugby preview edition of Rugby News
www.rugby.co.nz
Posted by: , on February 17th 2011 on 10:58pm
0 Comments
Friday 11th February 2011
England U20 thrash Italy in Bath
Match report: England U20 74-3 Italy U20 from www.rfu.com
Friday February 11, 2011
Issued by Stefan Curtis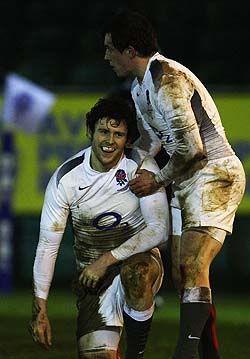 England U20 centre Elliot Daly
England U20 emphatically maintained their 100 per cent record in this season's 6 Nations campaign after running in 11 tries against Italy in a 74-3 victory at the Recreation Ground, Bath.
London Wasps centre Elliot Daly and Worcester Warriors wing Andy Short ran in four tries apiece with Leicester Tigers fly half George Ford and Newcastle Falcons No. 8 Alex Gray also touching down. The referee also awarded England a penalty try in the final minute.
Ford was in fine form with the boot, with 19 of England's points coming from his right foot, eight converted tries and one penalty.
England had numbers over on the Italians in as early as the fourth minute after a swift move across field, but Worcester Warriors flanker Matt Kvesic's pass fell just short of Northampton Saints wing Jamie Elliott.
The missed opportunity was a warning for Italy and in the seventh minute Daly showed a quick turn of pace to cut behind the Italian defence and touch-down.
Both sides then exchanged successful penalties shortly after to take the score to 10-3 with 11 minutes on the clock.
Daly then once again proved too hot to handle for the Italian defence after he turned on the gas to shoot through and put the ball down between the posts.
With 20 minutes gone England had their third try of the evening. Good work from captain Gray put Short through to dive over the in the corner.
Minutes later and England added a fourth, Daly completed his hat-trick in not dissimilar fashion to his first two, displaying pace and precision.
Before the half hour mark Daly had his fourth try of the evening. England showing good initiative to collect a loose punt up-field and the Wasps man reacted quickest to touch down.
Into the second half and England wasted no time in picking up where they left off. Short grabbed his second try of the night, again heading over in the corner after a great pass from Northampton Saints hooker Mike Haywood.
George Ford then broke up the Daly, Short try-scoring show by adding a score of his own, touching down between the posts and converting the additional two points to make the score 48-3 with 50 minutes on the clock.
England's pack was dominant throughout and Gray made it two tries in as many games picking up from the back of the scrum and running over to score.
Andy Short completed his hat-trick with 14 minutes left, a fluid passing move freed him up out wide and the Worcester man made no mistake.
Not to be outdone by Daly's four tries, Short went over for his fourth with five minutes remaining, showing good acceleration to outwit his Italian counterpart.
England were then awarded a penalty try in the dying seconds after the scrum once again proved dominant on the Italy try line. Ford converted and brought the game to a close.
England starting XV:
15 Ben Ransom Saracens
14 Andy Short Worcester Warriors
13 Elliot Daly London Wasps
12 Ryan Mills Gloucester Rugby
11 Jamie Elliott Northampton Saints
10 George Ford Leicester Tigers
9 Chris Cook Bath Rugby
1 Mako Vunipola Bristol Rugby
2 Mike Haywood Northampton Saints
3 Will Collier Harlequins
4 Addison Lockley Exeter Chiefs
5 Charlie Matthews Harlequins
6 Matt Kvesic Worcester Warriors
7 Matt Everard Leicester Tigers
8 Alex Gray (C) Newcastle Falcons
Replacements
16 Rob Buchanan Harlequins on for Mike Haywood 50
17 Luke Cowan-Dickie Exeter Chiefs on for Mako Vupipola 65
18 Joe Launchbury London Wasps on for Addison Lockley 47
19 Ollie Stedman Leeds Carnegie on for Matt Everard 50
20 Dan Robson Gloucester Rugby on for Chris Cook 62
21 Guy Armitage London Irish on for Elliot Daly 44
22 Christian Wade London Wasps on for Ben Ransom 44
Posted by: , on February 11th 2011 on 10:37pm
0 Comments
Friday 11th February 2011
ENGLAND DEBUT FOR CORBISIERO
Alex Corbisiero, the London irish prop, has replaced Andrew Sheridan in the England team to play Italy in the Six Nations. His
grandfather Riccardo left Naples for America in the 1950s to run a restaurant in New York, so Corbisiero will be playing against the land of his forefathers at Twickenham tomorrow.
Sheridan reported soreness in his back following training on Thursday and the decision for him to make way was made after a review by the England medical team this morning.
The uncapped Corbisiero, 22, trained with England at Twickenham this morning having spent two days in the camp earlier this week as an injury replacement for Tim Payne.
A former IRB Junior World Championship finalist, he played for England Saxons in the 2010 Churchill Cup and against Italy A and Ireland A earlier this year.
England Team Manager Martin Johnson said: "Sheri has progressed a bit this morning but not enough and we made the call that Alex is starting.
"We have no qualms putting him in there at loose head and starting. David covers loose-head from the bench but Alex has more experience there.
"We trust all the squad to play. I had the conversation with Alex as we walked off the field on Tuesday. He was saying 'thanks for having me in'.
"I told him you are only an injury away from starting and you have got to be ready. He's strong, fit and he can play at this level. He's played against some of the best props in the world in the Premiership."
Profile (from www.rfu.com)
An appearance off the bench in the Guinness Premiership final for London Irish against Leicester Tigers in May 2009 completed a highly successful debut season for Alex Corbisiero. He played in 20 Premiership matches, including six starts but missed the opportunity to make his England Saxons' debut when a knee injury prevented him from going to the Churchill Cup in Denver, Colorado. His initial appearances for the side were in the 2010 tournament.
Alex's impressive physique casts him in the mould of a contemporary prop and he was introduced to the game at the age of five by his American father. Before joining the Irish in August 2005, he played for KCS Old Boys, London Scottish, Cobham and London Welsh. He initially appeared for Surrey Schools and after graduating to England Under 18s, figured in the World Championship for the Under 19s in 2007 and represented the USA at the same level.
Excellent form prompted his selection at tight-head for the 2008 Under 20s' Six Nations when he started every match in a Grand Slam season. His first game was against Italy in Genoa, a highly appropriate debut because of his Italian-American background, having been born in New York City. He crashed over the first of his two tries in the tournament that year.
His grandfather Riccardo left Naples for America in the 1950s to run a restaurant in New York and Alex said: "Scoring against Italy is something I wanted to do because it is part of my heritage. I made sure that I swapped my shirt afterwards so I could have an Italian one for my grandfather."
Alex, who has been studying at the London School of Economics, has also worn the green and white of Nottingham as well the emerald jersey of the Irish. He had a spell on loan with the Meadow Lane-based club in 2007-08. By the end of January 2011, three months after signing a new two year contract, he had played in 41 Premiership games and scored four tries.
Posted by: , on February 11th 2011 on 01:54pm
0 Comments
Thursday 10th February 2011
England unchanged for Italy at Twickenham
England have named an unchanged starting line-up for the RBS 6 Nations match against Italy at Twickenham Stadium on Saturday, February 12 (2.30pm).

The only change to team manager Martin Johnson's squad is on the bench where Hendre Fourie (Leeds Carnegie) takes over from Joe Worsley (London Wasps).

Mike Tindall leads the side and wins his 68th cap, while Nick Easter, who made his debut against Italy in 2007, will make his 40th appearance for England.

England team
15 Ben Foden (Northampton Saints)
14 Chris Ashton (Northampton Saints)
13 Mike Tindall (Gloucester Rugby, captain)
12 Shontayne Hape (Bath Rugby)
11 Mark Cueto (Sale Sharks)
10 Toby Flood (Leicester Tigers)
9 Ben Youngs (Leicester Tigers)
1 Andrew Sheridan (Sale Sharks)
2 Dylan Hartley (Northampton Saints)
3 Dan Cole (Leicester Tigers)
4 Louis Deacon (Leicester Tigers)
5 Tom Palmer (Stade Francais)
6 Tom Wood (Northampton Saints)
7 James Haskell (Stade Francais)
8 Nick Easter (Harlequins)

Replacements
16 Steve Thompson (Leeds Carnegie)
17 David Wilson (Bath Rugby)
18 Simon Shaw (London Wasps)
19 Hendre Fourie (Leeds Carnegie)
20 Danny Care (Harlequins)
21 Jonny Wilkinson (Toulon)
22 Matt Banahan (Bath Rugby)
Posted by: , on February 10th 2011 on 12:33pm
0 Comments
Sunday 06th February 2011
THE RUGBY WEEKEND REVIEWED - by Rupert Bates
What a weekend of rugby. As an Englishman I was delighted to see England's victory over Wales in Cardiff. The only blemish and it was a 30-mile blemish, was the scheduling for the great god television. Yes under lights and a closed Millennium Stadium roof gave it a certain frisson and extraordinary noise levels, but the decision to play on a Friday night was always going to end in traffic gridlock, especially as driving is often the only option, given the appalling train service and not helped by some rip-off hoteliers insisting on two nights money for one. Shameful behaviour. It was a night for lock forwards. Much more of this from Tom Palmer of Stade Francais and England manager Martin Johnson might regret the decision not to pick foreign-based players from after the World Cup. There was not much for Wales to sing about, but their second-row Bradley Davies grows in stature with every game. You cannot help but love England's two-try wing Chris Ashton, all pump, passion and pace, with a smile on his face. But I knew I was getting old when I moaned about the Northampton man's flamboyant dive, ball held in the finger tips of one hand for his first try. By all accounts Jonno wasn't too happy either.
DOMINGO NOT PLACIDO
But the best performance of the opening weekend came from France in a terrific contest against Scotland in Paris. French flair is one of rugby's great clichés and it is true there are few finer sights in sport than their players, all gliding pace and dextrous hands, smart angles and support lines, sweeping up the pitch. But the coal of French rugby has always burnt fiercest in the front-row. It is the pug faces and battered noses that are the real pin-up boys across the channel. Step forward Thomas Domingo, William Servat and Nicolas Mas – a front-row straight out of central casting, who had their Scottish counterparts on toast. The re-sets may get a bit tedious for some and there are all sorts of dark arts practiced, but there is something elemental, gladiatorial, as the front-rows crouch. Marching the opposition pack backwards is as thrilling as Maxime Medard in full flight. Plenty for Scotland to take heart from and such was the performance of Richie Gray, the second-row must have felt nearly seven feet tall.
TWITTER TWITS
An interesting development on Saturday night, as I followed the Six Nations reaction on Twitter. And let's forget the tweets of Everything Rugby's very own Tom May (@tommay1), who had his phone pinched by a mate who posted rogue tweets to embarrass the Toulon centre. No it was the conversation between Brian Moore (@brianmoorerugby) and Austin Healey (@IamAustinHealey). Now two more opinionated, and sometimes infuriating, ex-internationals you would struggle to find. You would also struggle to find two more knowledgeable, incisive and 'call it without fear or favour' pundits. So it was sad to hear that these two former England internationals were wondering if tweeting was worth it, given the grief and abuse thrown at them by their 'followers' who claim to be rugby fans. Now both these guys love a row and are certainly not delicate flowers, quite able to handle anyone having a pop at them, but when it descends into disgusting language and downright personal abuse it crosses the line. Social media has been great for banter and a lot of rugby men – current greats, former greats, armchair fans, or useless old lumps turning out for the Vets – are regular tweeters – but it also gives a 'forum' for cowards and creeps to post their prejudices and their filth.
TELLY-VISUAL SAVALAS
On a lighter Twitter note, one of many rugby men worth following is @davidflatman, whose Twitter profile picture is Kojak. Flats obviously knows his rugby and his media career, currently as an Independent on Sunday columnist and Sky Sports pundit, will continue to thrive. But the razor-witted Bath prop is also absolutely barking on any numbers of subjects that get inside that loose head of his.
DECLAN TRANSPLANT FOR KIDNEY?
The rugby weekend was rounded off watching highlights from Wellington and the HSBC Sevens World Series. England continue to do well, although went down to the hosts New Zealand in the final. Star of the show was the flying, stepping Kiwi Declan O'Donnell, just 20, who sounds like a country musician from Donegal. Has another Declan – Ireland coach Kidney - checked the kid's ancestry? He can't really be from Waikato? He's even got red hair for goodness sake.
Posted by: , on February 06th 2011 on 11:35pm
0 Comments